DEWENWILS 18 Inch 1 to 3 Light Extension Cord Splitter, 16AWG Heavy Duty SJTW Wire, 3 Prong Indoor Power Strip (3 Pack)-HEC103B
ETL Certificated for Safety
1 to 3 Power Cord Splitter
16/3 gauge SJTW Weatherproof
Suitable for -13°F to 167°F
16AWG 13A Power Cord
18 Inches Cable Strip
3-Prong Cable Plug
Order in the next
[totalHours] hours %M minutes
to get it between Est.
and
Guaranteed Safe Checkout
Trusted Delivery:
Description
【 1 TO 3 POWER CORD SPLITTER (3-PACK)】This black extension cord with triple outlets saves sockets and maximizes the usage of power strips and wall outlets, making it a practical solution for any home or office. With an AC 125V/13A/1625W power rating, this cord can handle high-powered devices with ease. The 3-way power splitter is great for power adapters and bulky plugs, providing users with added flexibility. The NEMA 5-15P to NEMA 5-15R x 3 configuration ensures compatibility with a wide range of devices. 

【 DURABLE EXTENSION CORD】This heavy gauge power cord extension is made of upgraded 16/3 gauge SJTW wire instead of common SJT, making it a durable and reliable solution for a wide range of applications. The SJTW wire is rated weatherproof, suitable for temperatures ranging from -13°F to 167°F. The PVC jacket provides added protection against moisture, abrasion, and direct sunlight, ensuring that the cord lasts longer and performs better even in demanding environments. 

【 HEAVY DUTY CONSTRUCTION】This 16AWG 13A power cord splitter is a durable and reliable solution that is built to last. The all-copper wire, reinforced blades, and double jacketed cords provide added durability, making it resistant to wear and tear over time. The full-molding design adds an extra layer of protection and durability, ensuring a lifetime of use. Additionally, this power cord splitter is ETL certified, meeting industry standards for safety and reliability. 

【 LENGTHS CORD 18 INCHES】This 18-inch cable strip is a practical solution for adding much-needed length to surge strips, UPS outlets, or other electronic device cords. It provides more flexibility for multiple AC transformers or AC/DC wall warts, recessed outlets, and other hard-to-reach outlets, making it easier to connect your devices in a way that suits your needs. 

【 COMPATIBILITY】This 3-prong cable plug and heavy-duty power cords are ideal for compact workplaces or home offices, providing a reliable and durable solution for connecting a range of electronic devices. These cords are compatible with computers, scanners, power transformers, lights, and other appliances that require a 3-pin male to female shroud power connector, making them versatile and practical for a wide range of applications.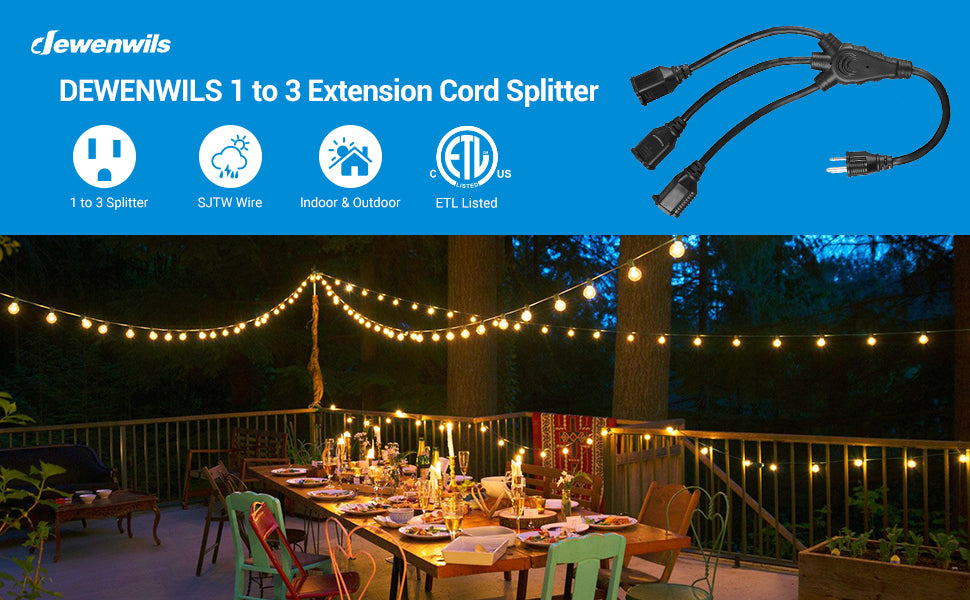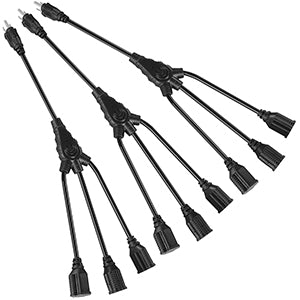 Hand Retractable Extension Cord Reel

Extension Cord Storage Reel
4 Grounded Integrated Outlets
13A Safety Breaker Reset Button
Rocker Style ON/OFF Switch
Swivel Round Grip Crank Handle
High-Quality Durable Case

Specifications:
Input Voltage: 125VAC, 60Hz
Max Power Rating: 13A / 1625W
Cord Capacity: 12/3,14/3,16/3Gauge
Package Includes:
Cord Reel x 1
Instruction Manual x 1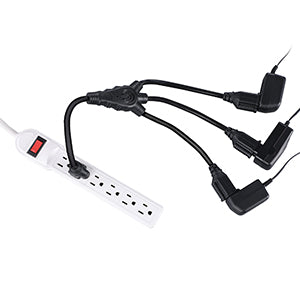 Smooth Rewinding

The case is easy to grip with the handle on top and the swivel round grip crank knob provides tangle-free smooth rewinding.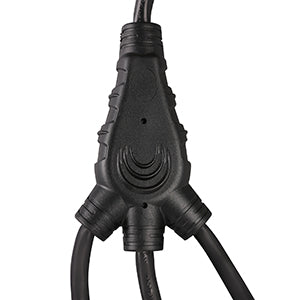 4 Protected Grounded Outlets

Comes with 4 integrated grounded outlets and a 13 amp circuit breaker, this heavy-duty open cord reel lets you plug in multiple appliances at the same time. The circuit breaker will automatically cut off the power supply when the total current of the connected devices exceeds 13A to ensure safety.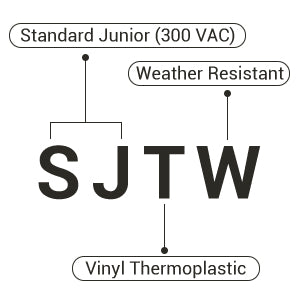 Durable Construction

This open cord reel has a heavy-duty metal stand that will support your extension cord steadily. The locking feature at the bottom will prevent the reel from turning well.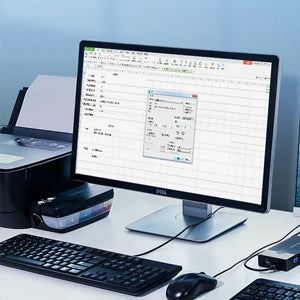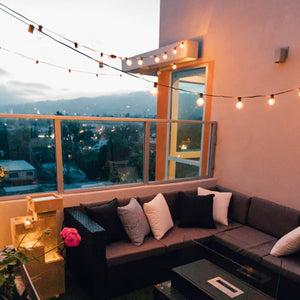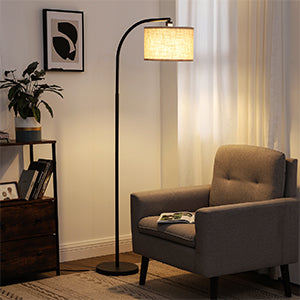 Technical Details
Input Voltage: 125VAC
Max.Current: 13A
Max.Power Rating: 1625W
Length: 18 inches
Cord: SJTW 16 AWG /3C


DEWENWILS 18 Inch 1 to 3 Light Extension Cord Splitter, 16AWG Heavy Duty SJTW Wire, 3 Prong Indoor Power Strip (3 Pack)-HEC103B
$21.99