DEWENWILS 10ft Indoor Short Extension Cord, 2 Prong, 5A Fuse Protection, 3 Polarized Outlets (2 Pack)-HICF10B
4 Fuses for Safety
5A / 125V / 625W
Suitable for -40°F to 140°F
16/2 Gauge Power Cable
10 FT Extension Cord
SPT-2 Insulated Wire
3 2-Prong Polarized Outlets
Flip-to-lock Safety Cover
Certified to ETL
Order in the next
[totalHours] hours %M minutes
to get it between Est.
and
Guaranteed Safe Checkout
Trusted Delivery:
Description
【4 FUSES for SAFETY】This 3ft small extension cord is equipped with a 5A fuse that protects your devices from accidentally connecting with overload appliances. The fuse ensures the safety of your home's electricity, giving you peace of mind and eliminating the need to worry about electrical hazards. 

【LOW POWER INDOOR USE】This extension cord is rated at 5A/125V/625W, making it suitable for use with low-power indoor appliances like lamps and other electronic devices. The 16/2 gauge power cable can withstand temperatures ranging from -40°F to 140°F, guaranteeing durable and safe performance. However, please note that this extension cord is intended for indoor use in dry conditions only. 

【10 FT EXTENSION CORD】The SPT-2 insulated wire of this extension cord enhances safety, providing reliable protection for your appliances. Additionally, the unique cable material remains flexible even in cold weather, ensuring its durability and longevity. The flat design of the power cord is tangle-free, easy to coil, and convenient to store, making it perfect for use in narrow spaces. With a length of 10 ft, this extension cord can extend a short light cord to a wall socket located behind furniture or in hard-to-reach areas.

【3 2-PRONG POLARIZED OUTLETS】These short extension cords come with three polarized 2-prong outlets on both the front and back sides. This allows you to expand one outlet into three outlets, providing ample space to charge up to three electronic devices simultaneously. With this extension cord, you can maximize the usage of power strips and wall outlets, enhancing their overall functionality.

【FLIP-to-lOCK SAFETY COVER】These extension cords come with three power outlets that feature rotate-to-lock safety covers. Simply rotate the cover to close the tamper guard when not in use, effectively preventing dust and foreign objects from entering the outlets. This eliminates the potential for electrical hazards, keeping you and your family safe. This extension cord is certified to ETL standards, ensuring its quality and performance. 

Specification:

Input Voltage: 125Vac, 60Hz
Max Power Rating: 5A, Max 625W
Length: 10 Feet
Cord: SPT-2 16/2
Plug Type: Polarized 2 Prong Plug (not grounded)
Outlet Type: 2 Prong Outlet (not grounded)

Package List:
10 Feet White Extension Cord x 2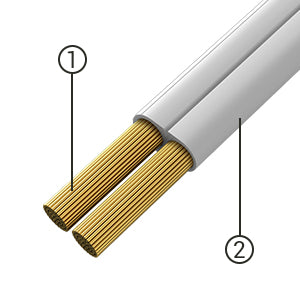 Flexible Flat Power Cable

1. 16/2 AWG copper conductors 2. Single wire insulation SPT-2 insulated power cable makes it durable and safe for household appliances connection. Unique material keeps it soft even in cold weather, easy to coil up for storage when not in use.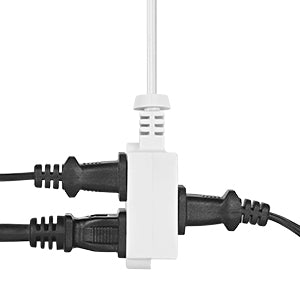 Extension Cord with Multiple Outlets

Each power socket features 3 outlets on the front and back side. You could connect with more appliances without using multiple extension cords, saving your money and energy.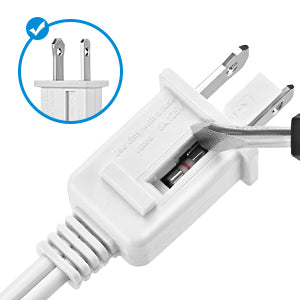 Four Fuses Included

Equipped with 5A fuse, the cord is able to protect your devices from accidentally connecting with overload appliances.

Technical Details
Input Voltage: 125Vac, 60Hz
Max Power Rating: 5A, Max 625W
Length: 10 Feet
Cord: SPT-2 16/2
Plug Type: Polarized 2 Prong Plug (not grounded)
Outlet Type: 2 Prong Outlet (not grounded)


DEWENWILS 10ft Indoor Short Extension Cord, 2 Prong, 5A Fuse Protection, 3 Polarized Outlets (2 Pack)-HICF10B
$15.99